These top 10 winter style tips will have you feeling cosy and looking fabulous all through the chilly months. It doesn't matter how cold it gets in your neck of the woods, these tips work for mild, cooler weather right through to freezing cold temperatures.
1. Embrace Layering
Layering adds an element of flexibility to your winter style. Use layers to create your outfits. Start with a light weight undergarment like a cami or singlet. Add a three quarter or long-sleeved top, maybe a light weight jumper (cashmere is my pick) or cardi, a jacket, scarf, hat and gloves. You can add or subtract pieces depending on the weather.
2. Get smart with scarves
Scarves add an element of interest to any outfit and will have you looking stylish with a minimum of effort.  They take up very little space in your wardrobe (or suitcase if travelling), and can be used as a source of inspiration for the hat and gloves colours you choose.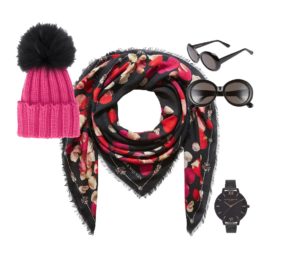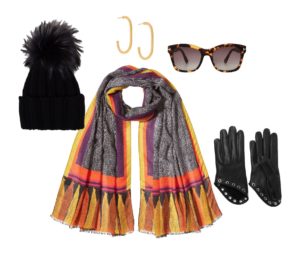 3. Invest in a great pair of boots
Boots rate high in the winter style stakes. Not only do they keep your feet warm and dry, there are just so many to choose from: ankle boots to calf length, long to ending above the knee. Flat heels to stilettos – there is a boot to suit everyone.
4. A quality coat is essential
My personal favourite of my winter style tips is to search high and low for your perfect winter coat and when you find it be willing to pay the price – this item will be in your wardrobe for a long time, so quality is key. Find it in a colour that compliments your hair colour, that way it will be truly versatile. When trying on coats make sure there's enough room to accommodate the layers you'll have underneath.
5. Slim fitting jeans
A pair of skinny or straight leg jeans (depending on the shape of your legs) will be a great way to keep your winter style current. With all of the bulk and volume you'll be creating with your tops and jacket, the narrow fitting bottoms will create a slimmer silhouette.
Tuck jeans into your boots or have them hemmed to where they hit the upper foot area of the boot on the outside.
6. Love Leather
If you don't already own one, put 'leather jacket' on the top of your winter style shopping list. They are versatile, durable, timeless and classic. Consider colour, fit of the jacket, texture of the leather and comfort factor when buying. This is another item that will last for years, so invest wisely.
7. Stylish Sneakers
For running errands, comfy weekend wear and for travelling, a stylish pair of sneakers will give you a break from your boots and keep your feet warm and dry.
All leading high street shoes outlets stock stylish sneakers. Remember to take your socks when going to buy – depending on their thickness you might have to go up a size.

8. A Slouchy Sweater
A loose-fitting jumper will tick the 'warm' and 'comfy' boxes as well as looking on trend. You can choose from the finest merino wool to more bulky cable knits. Add accessories such as a scarf to elevate the look.
9. Terrific Turtleneck
Also known as a roll neck or skivvy, these knitted gems are the epitome of style. Think Jackie O (Jacqueline Kennedy Onassis), Marilyn Monroe or more recently Taylor Swift and Rihanna. They are great as a stand-alone garment or as a layering piece.
10. Stunning Statement Earrings
The last of our winter style tips is to complete your outfit with some statement earrings. They will be the centre of attention whether you're wearing high necks, low necks, scarves or cover-up jackets and coats. Your outfit will look complete and you'll be ready to brave the cold weather with panache!
There is often a sea of black, white and grey that dominates the clothing stores during winter. That's great if you can wear these colours well, but what you if can't? In winter when we are at our palest it is especially important to wear the colours that harmonise with our hair, skin and eyes so that we appear healthy and look our best. I offer personal colour consultations and small group Colour Your Life workshops so that you can discover the best colours for you. These sessions are great fun and are a 'gift to self' that lasts for years.
Are there any items you feel should be added to my top 10 winter style tips? Let me know in the comment box below.