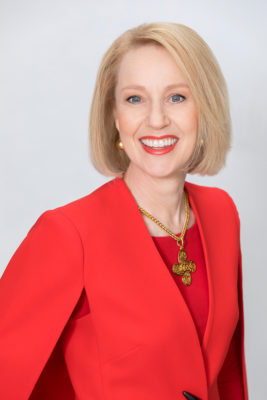 Ann Vodicka – Image Consultant and Personal Stylist
In my experience, personal styling and your personal brand tell a story about you. The story should support who you are now and the lifestyle you choose. It also should be authentic and support you in achieving your future goals.
Your personal image plays an important role in nurturing self-confidence and in how others perceive you. And, for businesses, image affects consumer perception of the brand. It's empowering and energising when your clothes reflect your 'true you' in a way that positively impacts your personal and professional life.
When I think back to how I became an image consultant, personal stylist, and business image expert I realise that many of my life experiences have led me to where I am now.
The Road to Image Confidence
It all started in my teens when my mum took me to a colour consulting party. I had been struggling with my looks and how to dress. After being analysed as a 'Spring' I began wearing clothes in the colours that were suggested for me. Well, the results were incredible. People began to compliment me on how fabulous I looked. My confidence grew and I felt like a new and improved version of me. My love affair with colour had begun!
Fashion and styling became a focus when I was employed as the youngest manager at one of Australia's leading fashion retailers in my early twenties. It was here that I learnt about women's body shapes and proportions. I also saw first-hand how a woman's confidence levels would soar when she liked the way she looked – the response was immediate and full of joy. And, it made me happy too!
Then came a world of opportunities when I joined Australia's premier airline, Qantas. As an inflight cabin manager, I met and worked with people from different cultures and walks of life. From politicians to pop gods like the Rolling Stones, movie stars to models and CEOs. Working with people whose image had to be 'on point' and how they presented themselves fascinated me the most.
My corporate training skills were honed as I coached new cabin crew in exceptional customer service, personal grooming and non-verbal communications. I shared how these aspects of their role promoted a successful business image as well as nurtured a confident personal presence.
My unwavering passion for image, colour and style and the joy I feel when I see the look on my client's face is what motivates me. As founder and Director of Image Confidence, I believe everyone can achieve an image that feels genuine, that they are proud of, and that champions personal and professional success.


Organisations:
I am a member of the most respected worldwide image consultant's organisation, Association of Image Consultants International (AICI) and have attained AICI CIC certification. Currently, I serve as President of AICI Australia Chapter. In 2019 I was honoured to be awarded the AICI global 'Rising Star Award', and last year, Australian Chapter Member of the Year.
I also enjoy volunteering as a personal stylist at Dress For Success (A non-profit organisation that improves the employability of women in need in NSW).