What are your favourite colours to wear with navy?
Navy is a deep blue and a great staple to have in your wardrobe. It works well for all seasons and is a timeless, classic neutral. You can wear navy at work to relay a reliable and dependable vibe (think police uniforms). Or, for casual wear, navy jeans always look smart. And, who doesn't love a navy blazer over jeans and a tee?
There are so many different colours you can wear with navy. Honestly, the list goes on and on! So I'm just going to give you 7 examples for inspiration.
There are so many ways to wear navy
Navy always looks fabulous with other variations of blue. Creating a monochromatic scheme with shades of blue creates a sophisticated look.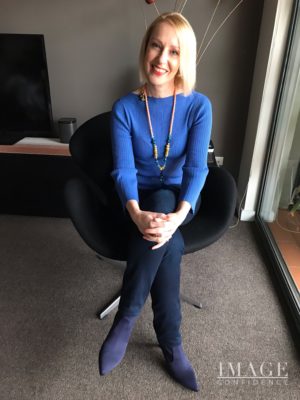 Navy and orange sit opposite on the colour wheel. This colour combination creates a high impact, dramatic effect.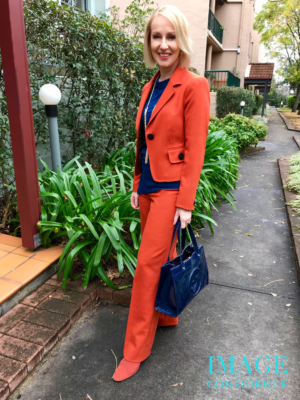 Here I've created a more subdued look by teaming navy with two neutrals: ivory and grey. The classic ivory blouse is from Zara and the very comfortable navy skirt is from Cadarra. Other neutrals that work well with navy are white (always crisp and fresh), soft khaki, beige and taupe.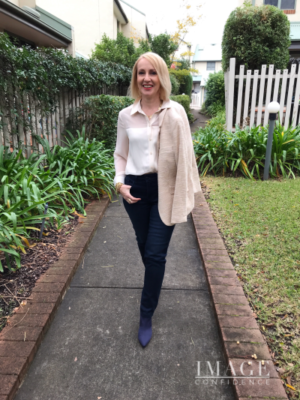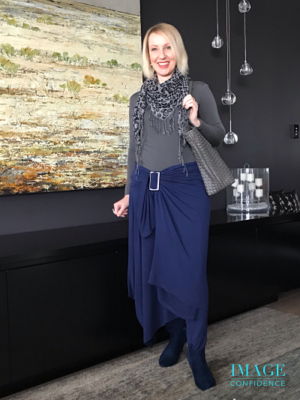 Another eye catching colour that works well with navy is red. If this is too bold for you then choose its lighter version – pink. And, yet another option is to wear burgundy, a rich shade of red.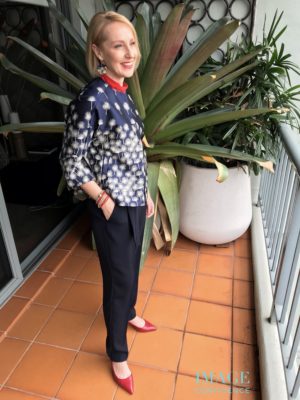 Blue, in all of its shades, sits next to green on the colour wheel. This mint green knitted top works harmoniously with my navy culottes. Other greens that would work just as well are lime, viridian, and teal.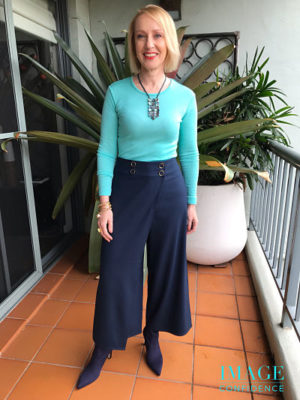 If you decide to wear a few colours with navy make sure that only one colour dominates and the others play a supporting role. Remember the 60/30/10 rule of design. In this outfit the navy top and jeans make up 60% of the outfit. The coral jacket makes up 30% and the small pops of colour in the scarf make up the remaining 10%.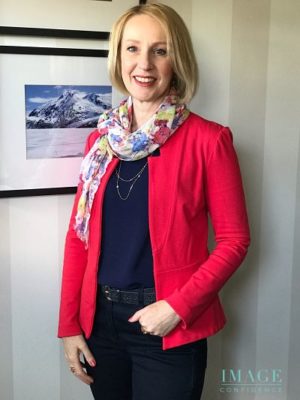 And as always, make sure that when you wear any colour close to your face that it's undertone blends with your unique colour palette so that you always look healthy and vibrant.
I'd love to hear about your favourite ways to wear navy.