,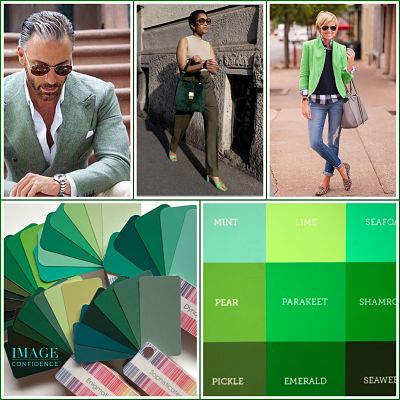 12 Joys of Colour is my version of the 12 days of Christmas which aims to share vibrancy and happiness in the lead up to the festive break. Here are the first three colours:
Day 1 – Green
"Green, which is Nature's colour, is restful, soothing, cheerful, and health-giving." Paul Brunton
Colour surrounds us. Subliminally, it affects how we feel and how we are perceived. Cultural and personal experiences can also influence the way we view colour.
I'm going to focus on the positive messages green evokes.
Below are some shades and hues of green and how they may be perceived by others and how they might make you feel.
Deep greens, like seaweed and bottle green = reliable, strong, tenacious
Lighter, brighter greens, like lime and mint = cheerful, playful, fun
Grey greens, like khaki and sage = wisdom, trust, nurture
Emerald and jade greens = lively, sophisticated, regal
So what colours team well with green?
When I take clients out on personal shopping trips I quite often pair green with blue (navy especially), purple, brown and tan, charcoal, yellow and other versions of green.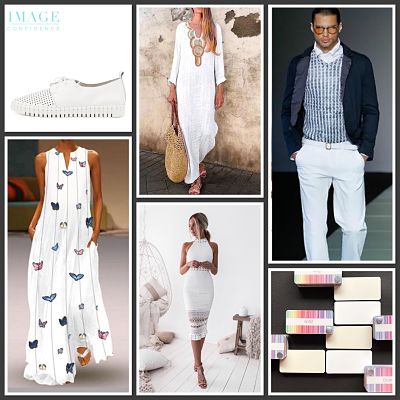 Day 2 – White
Ivory, snow-white, snow, milk, milky-white, chalk, pearl, antique white, chalk, seashell, cream, linen, ghost white, beige, cornsilk, alabaster.
These some of the words we use to describe the many variations of white.
Classed as a 'neutral', white is a blank canvas that allows other colours to shine. It is ideal to use in your home and to have in your wardrobe.
Have you ever searched for white paint? You were probably shocked to discover that there are thousands of shades of white paint available. And, you would have worked out pretty quickly how important it was to choose wisely because it influenced how the room looked and felt e.g. bright, warm, cold.
The same applies when you choose your white clothing. There are very few people who can wear pure white successfully. Many of us look tired, pale and sick in pure white. Instead, wearing a soft white (white with a tiny drop of yellow, umber, grey or green added) compliments your complexion and gives you a healthy glow.
If you would like to see how soft white looks on you, dye one of your white tee-shirts in tea. It's simple to do: Fill a large saucepan with water and bring to the boil. Steep two teabags in the water for 15 minutes. If you want a light, yellowish colour use green or white tea. If you're wanting something a little darker, use black tea.
I feel calm, fresh, stylish and relaxed wearing my versions of white. How does white make you feel?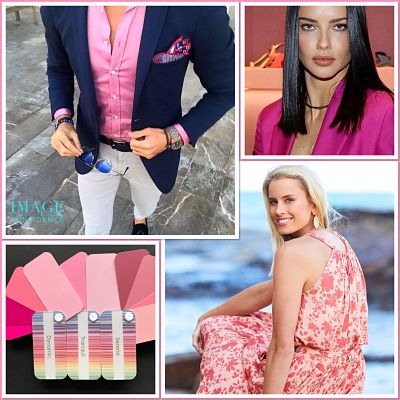 Day 3 – Pink
"Pink is the new black." Diana Vreeland
Known universally as the colour of love, pink was once seen as a 'girls only', sissy hue.
But social attitudes have evolved and pink is more widely accepted as a colour for everyone. As an image consultant and personal stylist I've found that there can be resistance to wearing pink, but generally, once all of the other elements of the outfit are added there is a change of heart.
Pink is a wonderful mix of red and white – the white subduing the fiery energy of red.
Dark pinks can have similar effects to red. Viewed as strong and bold, dark pinks can heighten emotions. On the other hand, paler pinks are perceived as soothing and approachable.
Salmon, coral, hot pink, fuchsia, blush, flesh, flush, fuchsia, rose. Which is your best version of pink? Is it pale, cool and icy, a yellow-based coral, or more vibrant and striking like fuchsia? Match it to your complexion and your skin will glow.
Book in to have your Personal Colour Consultation