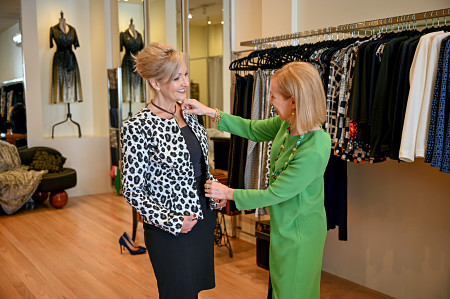 "Personal shopping is the art of buying clothes, shoes and accessories that suit YOU in a mindful, focused way."
 Ann Vodicka
Are you struggling to find clothes you like that suit you and match your style preferences and lifestyle?
Have you spent hours in clothing stores overwhelmed and confused by too many choices, only to go home empty-handed, exhausted and frustrated?
Do you wince at the thought of the money you have wasted on the clothes, shoes and accessories you rarely or never wear?
If you are time-poor, struggle with shopping and need a helping hand to select the right items, I'd love to help.
A personal shopping trip will save you time and money as we focus on shopping for the items you need and love. Feeling overwhelmed and frustrated will be a thing of the past because your personal shopping experience is tailored specifically to suit you: your personality, style preferences, body shape, colouring, lifestyle, and budget. Get ready for a fun, empowering and rewarding experience.
Why invest in a Personal Shopping Adventure?
If you've dreamed of having clothes in your wardrobe:
you love to wear
you wear again and again
that makes you feel good
that reflects who you are on the inside
are in styles and colours that complement you
mix and match for greater flexibility and versatility
are current and stylish
you feel confident wearing
that reflect who you want to be and how you want to feel
raise your self-confidence… then a personal shopping trip is for you!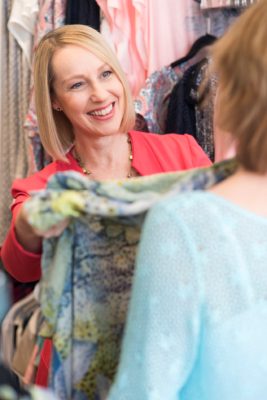 "Hi Ann,

I have finally found the time to express my gratitude for your help with finding me clothes that look wonderful and make me feel fabulous.

The effort you took to go pre-shopping before our "date" was astounding and took the pain away from me having to wander around aimlessly looking for clothes that would be suitable for me and my overall wardrobe. As a woman with some extra curves, I find clothes shopping overwhelming and disappointing at the best of times and I usually end up either purchasing something for the sake of buying or I go home with no purchase and feel blue about the whole experience.

With you, however, I felt my wardrobe was transforming immediately! You chose clothes for that took me out of my comfort zone, items I would never had considered suitable for me, but here I was loving them all and couldn't wait to wear them.

I cannot thank you enough and wish I'd discovered you many years ago. When it's time to update my wardrobe or I have a special occasion, I will be making an appointment with you just like I would with my hairdresser – the investment is the same. All the best and I'll be in touch soon regarding our next date :-)"
Nicole M.
Here's what Kim said:

"I find shopping for clothes frustrating and time consuming. My three hour Personal Shopping trip with Ann was just the remedy I needed to buy my autumn/winter wardrobe fast and with a minimum of fuss! By the end of our session I had a variety of mix and match, dress up or down outfits that are perfect for the cooler months. Normally, it would have taken me many repeat shopping trips before I found anything I liked.

Ann had me trying things on I would normally walk past, but to my surprise, they looked great on me.
I really valued the time Ann spent with me before we shopped to find out a little about me, the type of clothes I needed for my lifestyle and what I wanted to achieve during our time together. Ann's enthusiasm is infectious. It was definitely a fun, energising and rewarding experience."

Kim W.
Branch Director
Business In Heels – North Shore Sydney
"Ann, I just thought I'd shoot you a little message to thank you again . I love my new wardrobe so much and feel like a new woman. I learnt such a lot from shopping with you.
Thanks again for a wonderful experience."

Chris, Lane Cove
"I was so pleased with my colour consultation and personal shopping trip with Ann – she got it exactly right with me.  I was hoping to get out of my comfort zone and explore new looks and colours and Ann was spot on with all her suggestions.  She is a true professional who really knows her stuff and I am thrilled with the outcome."

Louise M.
Online Personal Shopping
Do you dream of owning a mix and match wardrobe where everything looks fabulous and has you feeling confident and ready to take on the world, no matter the occasion?
We can be hundreds or thousands of miles apart and still be able to achieve your dream wardrobe (thank you, internet!)
Online personal shopping consultations are fun and easy. I'm here to do all the heavy lifting for you – to help you find the clothes, shoes, and accessories that suit your style preferences, lifestyle, colour palette, body shape, and budget.
Here's what Heidi said:
"My online shopping experience with Ann was perfect. Before meeting Ann, I was frustrated with purchasing items that would work together and fit my style. Ann was able to make the shopping process easy and fun. I live in the United States and therefore we connected via Zoom and email. By combining the correct colors with my style, Ann created an incredible wardrobe of items that all worked well with each other. She introduced me to new styles, new brands and different stores. Working with Ann was a wonderful experience, and I look forward to her help in the future."
~Heidi H., USA
Contact me to organise a complimentary half-hour Zoom call to chat about your style goals and what you want to achieve.
Would you like to know your best colours before your personal shopping adventure? A Personal Colour Analysis will ensure every colour you buy will make you look healthy, vibrant, and more youthful.