These 3 top tips for wearing green will help you to identify your best greens, explain what different shades of greens mean, and suggest winning colour combinations to wear with it.
Many people avoid wearing green because they think it's difficult to mix and match with other colours. Read on, and I'll share some ideas.
Which Greens Should You Wear?
Firstly, you need to know that there are warm and cool versions of green. Look at the 2 images below. Notice how the warm greens sit next to yellow on the colour wheel. And, the cool greens sit next to blue on the wheel. One group will suit your complexion more than the other.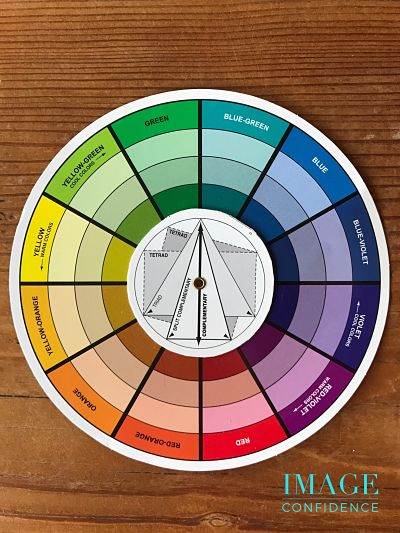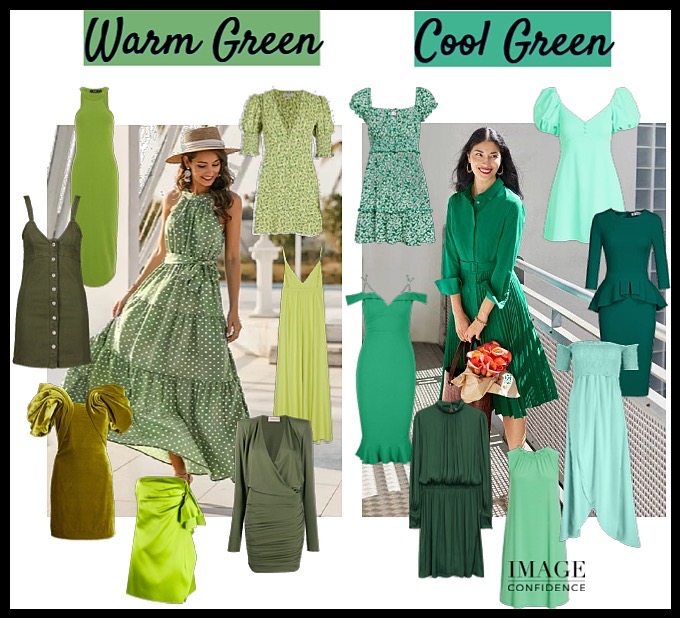 Words like khaki, olive, fern, Kelly green, chartreuse and moss are often used to describe warm greens. Whereas cool greens have names like forest, mallard, emerald, mint, teal, and bottle green.
"Which ones suit me?" I hear you ask. Try this fun exercise to find out:
Compare one of the warm colours with one of the cool colours by placing them, (one at a time), underneath your chin. Which one makes you look pale and tired? Which one makes you look healthy and vibrant? Healthy and vibrant wins!
What Green Means
"Green strongly influences the heart and helps alleviate tension. Positive qualities associated with green are generosity, humility, and cooperation…" Tae Yun Kim
Colour psychology is the study of the many ways colours affect how we feel and how others perceive us. Here are words to describe 4 shades of green and their symbolism.
Deep greens, like seaweed and bottle green = reliable, strong, tenacious
Lighter, brighter greens, like lime and mint = cheerful, playful, fun
Grey greens, like khaki and sage = wisdom, trust, nurture
Emerald and jade greens = lively, sophisticated, regal
It's interesting to know what messages your choice of green clothes and accessories are communicating to others. And, depending on how you feel on a particular day you can choose a green to match.
Want to know more about other colours and their meanings? Click here.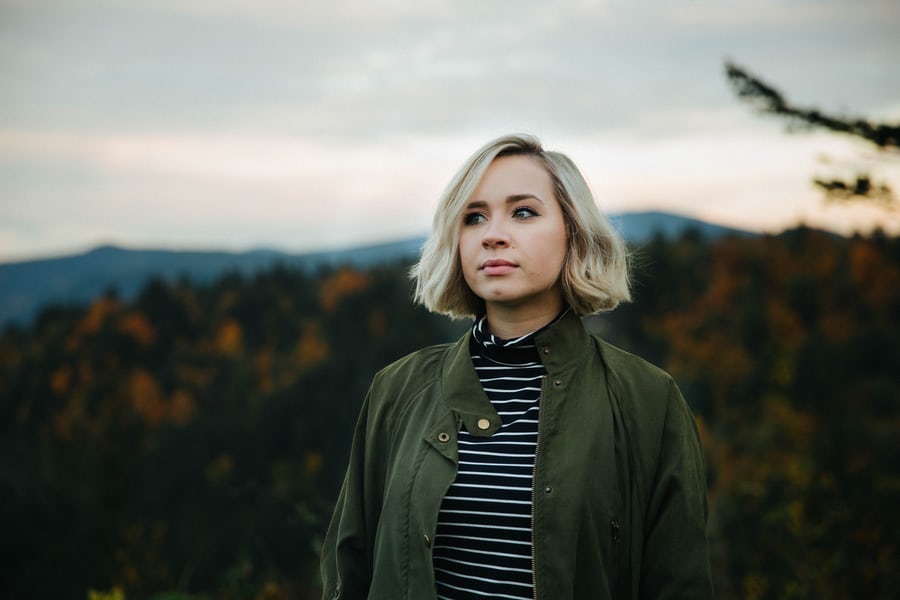 Tip #3 For Wearing Green – Colour Combinations
How to wear green when it's a colour you've shied away from in the past? Here are some suggestions:
You've seen that yellow and blue sit either side of the green on the colour wheel. Both colours look superb with green. For a fresh weekend look, team blue jeans with a fun lime or cool mint green top.
Other interesting combinations are green and violet, and green and orange. Both the violet and orange can act as accent colours in your outfit, such as a scarf, necklace, or earrings.
An easy way to wear green is in patterns such as florals, stripes, and geometrics. The other colours around it will make the green less noticeable.
Green, white and cream create an energising look for summer.
Tan or charcoal team beautifully with green during the cooler months.
Have a play with these suggestions. Do they make you feel uncomfortable or invigorated, alive, and energised?
Are you bamboozled by the overwhelming colour choices in fashion shops and online? Are you unsure about which colours suit you? A personal colour analysis will help you identify your best versions of green and all other colours in the colour spectrum. Make empowered decisions when shopping for your wardrobe. Save yourself time and money, and know you'll look healthy and vibrant every day. Personal colour analysis changes your life: it's enlightening and it's fun!
Image Credits: Avel Chuklanov – Unsplash
Masaaki Komori – Unsplash