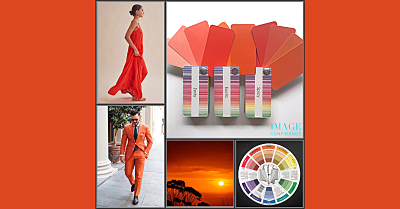 12 Joys of Colour:
My version of the 12 days of Christmas to share vibrancy and happiness in the lead up to the festive break.
Day 4 – Orange
Orange sits on the warm side of the colour wheel.
It's a mixture of strong, passionate red with the sunny optimism of yellow.
Orange is one of my favourite colours. When I wear it and see it, I feel energised and happy!
People with warm or neutral skin undertones can wear this colour successfully. If you have a cool undertone orange will make you appear jaundice rather than healthy and radiant.
One of my recent clients, Bronwyn, came for a colour consultation. We discovered that her best colours were cool colours. Bronwyn said she'd been yearning to wear orange and was disappointed that it was not in her colour palette. (Sometimes we just need to wear a certain colour because of the way it makes us feel.)
I suggested 3 ways that she could wear orange and still look good:
Wear it below your waist
Use only very small amounts
Wear one of your optimal colours in-between it (the orange) and your face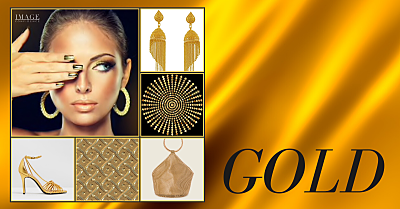 Day 5 – Gold
Sparkle and Glamour…
We associate the colour gold with quality, sophistication, luxury and success.
Wear gold if you have warm undertones. If you have cool undertones wear silver.
Like all precious metals, gold accessories will add interest to a plain outfit. It will be the focal point of the outfit so ensure you place it where you want people to look i.e. around your neck so they are drawn to your face, or around your waist if your waist is an asset.
If you find yellow gold too showy opt for the more subtle versions: brushed gold or rose gold.
Gold pairs beautifully with warm neutral tones like chocolate, olive green, khaki, rust, taupe and caramel.
How bold or how subtle should you go? You decide. Make a statement of 'full blown glamour' (think of the long evening dresses you see on the red carpet or Bollywood), you can wear it in the form of subtle sophistication (like simple gold and diamond studs worn with a black dress), or you can choose something in-between.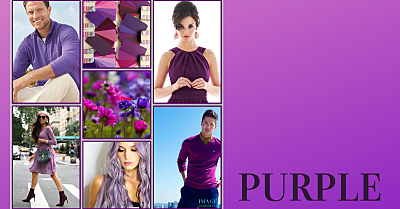 Day 6 – Purple
Purple is a combination of 2 primary colours: red and blue. When you look at a colour wheel or colour spectrum you will see that purple is called violet.
Centuries ago the ingredients to produce purple dye was so rare and expensive that only the very rich could afford it. Small mollusks, found exclusively in the Tyre region of the Mediterranean Sea (now modern-day Lebanon), were used to make the dye.
That is why we associate mid to deep purples with royalty, luxury and power. Lighter versions, like lavender and lilac, are seen as soothing, romantic and mysterious.
Recently I had a wardrobe audit with Ella and discovered a beautiful purple, navy and white striped skirt with the shop tags still attached. Ella said that even though she loved it, she had no idea of what to put with it. So, I searched through her tops and found a red blouse and a mint green tee – both looked fabulous with her skirt.
Other colours that team well with purple are orange, yellow and other purples.
Book in for your personal colour consultation and wardrobe audit to fall in love with your clothes again, create new outfits from the clothes you already own, and gain a boost of confidence.
Image Credits: Pinterest, Unsplash, Tommy Bahama, weddingbee.com