A capsule wardrobe is a small collection of clothes that you can mix and match to effortlessly create many outfits.
Home isolation is our current reality and it's easy to slip into wearing your gym gear, tracksuit or PJs on a regular basis.
Sure, it's comfortable, but it doesn't help your mindset around the fact that you're stuck at home. Wearing those types of clothes day in, day out can make you feel a bit 'blah'.
Keep your style game on I say! Not only will you look good, but you'll feel much better too.
The key to creating your capsule wardrobe is to include clothes that have a common theme. The theme I use is colour.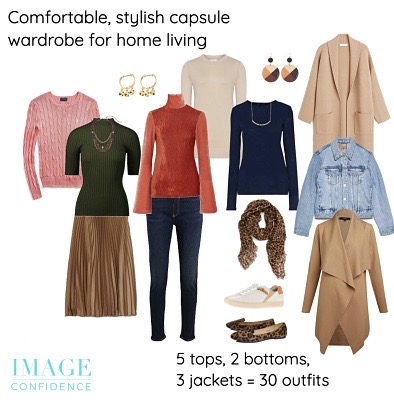 The 10 garments I've used in my example are all warm colours i.e. They have golden, yellow-based undertones.
Here are examples of a warm and cool set of colours:
If you're not sure whether warm or cool colours suit you, a Personal Colour Analysis is the way to find out. You can have yours done online – it's so much fun, and you receive 'goodies' in the post which is like Christmas 🙂
How To Create Your Comfy, Stylish Capsule Wardrobe
To create your capsule wardrobe choose five tops, two bottoms and three jackets or cardies.
When you calculate all of the ways you can mix and match the garments i.e. 5 tops x 2 bottoms x 3 outer layers you end up with 30 outfits.
You can make your capsule wardrobe as extensive as you want. For example, if you wanted to add an extra bottom, you would be able to create 45 outfits i.e. 5 tops x 3 bottoms x 3 outer layers = 45 different combinations.
Also, you can have all skirts, all pants or a selection of both in your capsule depending on your preferences. You can easily make this wardrobe formula your own by introducing tops with different necklines, sleeve lengths, fabrics, and patterns.
Finally, include accessories like necklaces, earrings and scarves to complete your outfits and add your stamp of individuality.
It's that easy!
If you have any questions about creating your capsule wardrobe write them in the comment box below – I'll be happy to answer them.