Is owning a versatile wardrobe something you'd like to achieve but think it's in the 'too hard basket?
Many clients tell me they're tired of owning a wardrobe full of clothes and feel they have nothing to wear. They confess they only wear about 10 to 20% of their clothes. And, they tell me they're not interested in being 'slaves' to fashion fads and trends.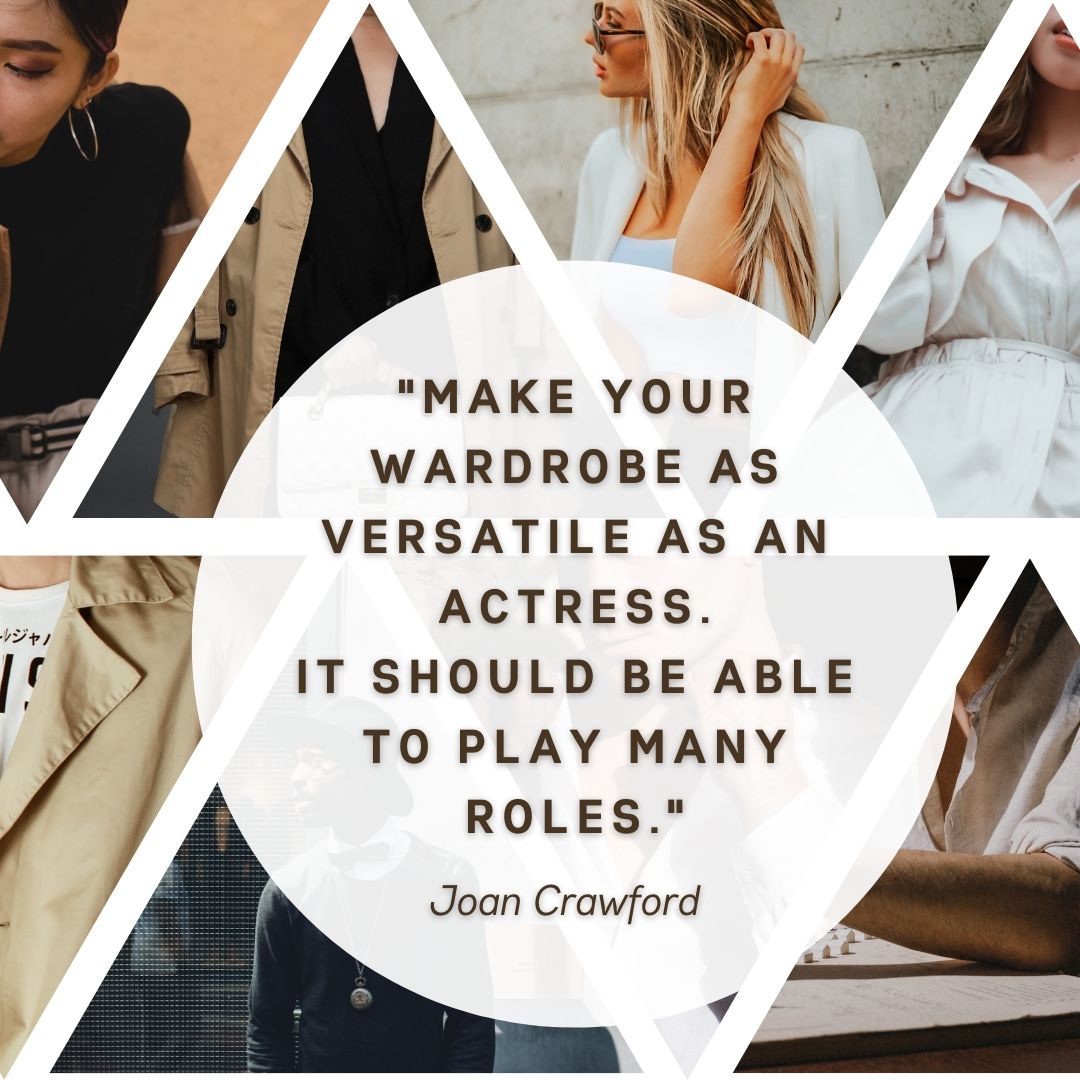 What they want are fewer clothes and less decision fatigue. They're keen to wear all their clothes more often and get better cost per wear per item. They love the idea of a capsule wardrobe where pieces mix and match effortlessly to create different looks for various occasions. They want to get dressed, look good and feel good in record time. And they know a versatile wardrobe will save them money in the long run and contribute to a healthy planet.
So many wins!
There are no set rules when it comes to a versatile wardrobe. It can be any size you like. You might decide to create two collections to adapt to seasonal changes, i.e., Spring/Summer and Autumn/Winter. Or, you could curate one capsule for work and another for play. Your personality style and lifestyle will influence your decisions.
Dreaming of Owning a Versatile Wardrobe? These 9 Easy Steps Will Get You Started:
1. Does it work for your current lifestyle?
Begin with a lifestyle analysis. Where do you spend your time? What are the activities? What clothes, shoes, and accessories do you need for these activities? List and prioritise the items you need to support your lifestyle.
2. What do you want your clothes to communicate?
Have a clear understanding of what you want your visual image to project. What is the story you want your clothes to tell? How do you want others to perceive you? Armed with this self-knowledge, you'll make informed, selective buying decisions about items that deserve a place in your wardrobe. They will be items you love, feel comfortable and confident wearing, and want to wear repeatedly.
Not sure? Let me help you with a Personal Style Consultation.
3. Do the colours make you look healthy?
Base your wardrobe around your ideal colour palette.
Clothes, shoes, and accessories coordinate with little or no effort when they have common elements, i.e., undertone, intensity, and value.
There's a colour palette that's perfect for you! It blends harmoniously with your colouring, i.e., your skin tone, hair, and eyes. These colours are incredibly flattering on you. Wearing them together creates a cohesive, flattering look. You can mix and match your palette in thousands of different ways – they will always work well together, adding to your wardrobe's versatility.
4. Should you keep it or let it go?
A) If you love an item, but it doesn't fit quite right, an alteration is a great investment.
B) What do you already own that deserves a place in your new wardrobe? Items that are never or rarely worn because they are too big, too small, damaged, the wrong colour, an unflattering style etc., won't make a selection – best to let them go.
If you're feeling overwhelmed with your wardrobe, let me help you edit your wardrobe, so you only have the best garments for you.
5. Build your wardrobe around your best neutrals.
The motto here is quality over quantity. Invest in quality basics in your best neutral tones: pants, skirts, jackets, plain basic tee, handbags, belts, and shoes. These items are the workhorses of your wardrobe, so they should be 'built to last. Superior fabrics. Timeless designs.
If you have cool undertones, choose from grey, rose brown, black, white or soft white, mushroom, mahogany, or navy.
Folks with warm undertones select from khaki, olive green, tan, camel, green-grey, warm white, cream, russet, and marine blue.
Creating a functional wardrobe 
6. We all need a hero.
Once the foundations are sorted, add some carefully selected statement, aka hero pieces. These items inject your unique personality style into your outfits. They could be bolder colours or have an interesting pattern or adornments like fringing, studs, or sequins.
A personal shopping trip might be ideal if you don't love shopping and are unsure what hero pieces would work for you.
7. Think layers.
Select multi-seasonal items that you can wear alone or layered to accommodate different weather conditions. The photos below show me wearing the same patterned skirt in summer and winter.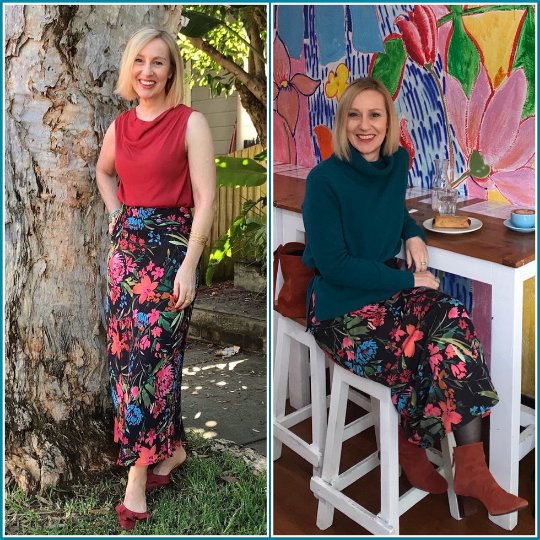 8. Laundry matters.
Choose fabrics that are easy to launder. Most of the clothes in your versatile wardrobe will be on high rotation, so the last thing you need is not to be able to wear an item because it's at the dry cleaner or waiting to be hand-washed.
9. Finally, add accessories.
They alter the look of your outfits, take up very little space, and inject interest into clothes on constant rotation. Accessories can also be a fun and inexpensive way to express your style.
Does your current wardrobe offer you versatility and freedom? If you find sorting out your style tricky and would like some help curating a wardrobe that requires less thought, has greater impact, and works for your life and style, I'd love to help.