There are many ways to improve your style, and one of them is by using the principle of volume. It is a simple technique that makes every outfit look good. You may be using it already without knowing it.
This article explains the principle of volume and how you can use it when combining your clothes.
Improve Your Style using the Principle of Volume
A garment is voluminous when it is oversized, bulky, full or wide, very gathered or flared, or there is a large quantity of fabric. Think: palazzo pants, culottes, loose billowy blouses, tops and skirts with ruffles, peasant tops and box pleat or full circle skirts. Here are some examples: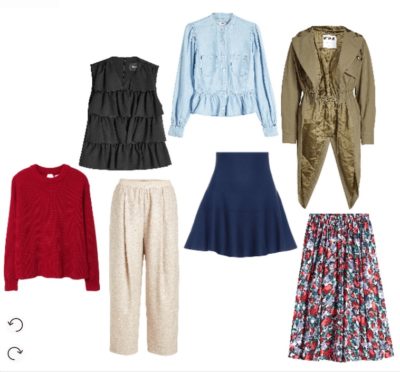 When two voluminous items are worn together the look becomes boxy and shapeless. The fabric swamps you and makes you look larger. The picture on the left (below) shows examples of this.
Now look at the image on the right. I have replaced the full skirt and loose, baggy pants with a tapered pencil skirt and straight cut black jeans. The slim lines of these garments balance out the oversized top giving the wearer some shape which creates a more flattering and visually appealing look. Other fitted garments that will show your shape include slim leg jeans and capri pants, high waisted straight skirts and tube skirts.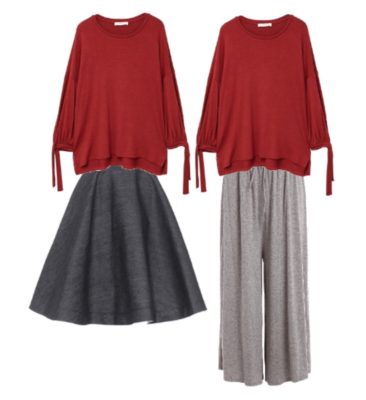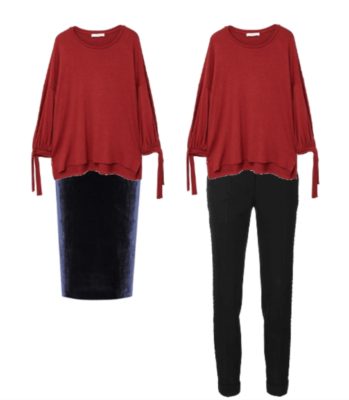 The last picture shows the combination in reverse. The original voluminous skirt and pants have been teamed with a red-orange slim fitting top. Tip: If you are petite wear heels to elongate your legs.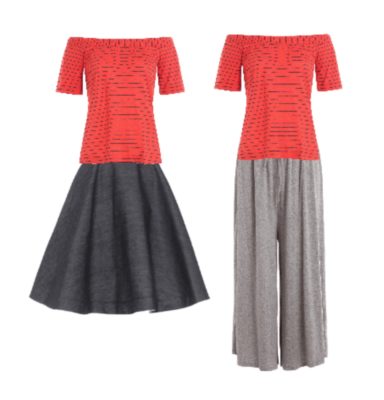 The principle of volume works with all body shapes and for outfits for all occasions i.e., casual, smart casual or dressy. Just by using the simple formula of mixing a slim fitting garment with a voluminous one you will create a stylish look. Add accessories to complete your outfit.