Hermes is a family run business spanning 5 generations. The brand is synonymous with luxury and quality workmanship. The 'Hermes at Work' exhibition at Melbourne Town Hall was a feast for the eyes. Artisans offered us a rare and privileged look into how each items is made.
Is was a wonderful interactive experience. Each skilled crafts-person explained and demonstrated how they transform materials such as leather, silk, precious gems and ceramics into stunning handbags, gloves, scarves, watches, jewellery, saddles and finely painted porcelain. One of the highlights was looking through the jeweller's 15x magnifying glass at the piece he was working on; a Galop Hermes bracelet featuring 2,500 plus diamonds – dazzling!
It was a fascinating world to experience. one which requires incredible skill, time, patience, an eye for detail and a passion for excellence.
'Hermes at Work' is at Melbourne Town Hall until 17 March (closed 12 March). If you're in the CBD it is definitely worth a visit.
The Leatherworker
The Tie-Maker
The Glover
The Silk Printer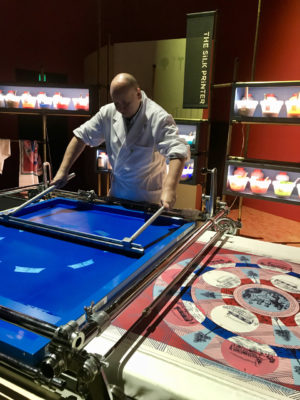 The Porcelain Painter
Ann Vodicka is a Sydney based image consultant who is passionate about style and design. She believes you can be stylish at any age, and loves helping people dress to express their individuality, and, to dress for success.