These fabulous jewellery and belt storage ideas are clever ways to organise your accessories so you can see and access them with minimum effort. Just think of the time you'll save (no more tangled necklaces and lost earrings) and how simple it will be to choose the perfect pieces to go with your outfits. You'll be stylishly dressed and out the door in record time!
What Kind of Clutterbug Are You?
Before deciding on the best storage solutions, it's a good idea to know your organisational style. According to Cassandra Aarssen, there are four types of organisers. Some like their items on display, others like them hidden. Some like macro solutions and others micro solutions. Her books helped me work out which jewellery and belt storage ideas would be best for me. You might find it interesting to know which organising style suits you.

The Joy of Tidying Up
Marie Kondo is Japan's decluttering and organising guru. In her book, 'The Life-Changing Magic Joy of Tidying: A Simple, Effective Way to Banish Clutter Forever.', Marie covers the key ways to clean, simplify and organise your home. But, she goes further than that. Marie teaches the art of being intentional about what you decide to keep and how it impacts your thinking, way of living and your perspective on life – it's a great read! Here's a link to Marie Kondo's book
Jewellery and Belt Storage Ideas
Stackable jewellery trays: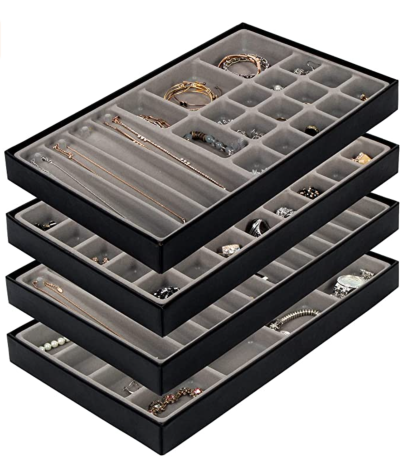 Jewellery Drawer Organiser and Stackable trays: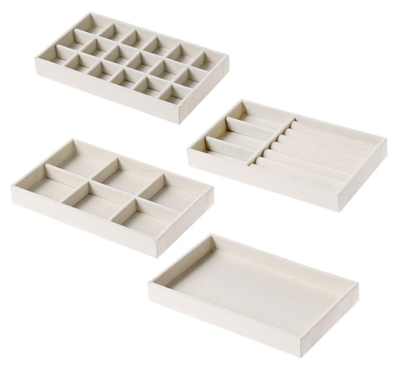 You can configure these customisable interlocking containers in various ways, depending on the size of your drawer.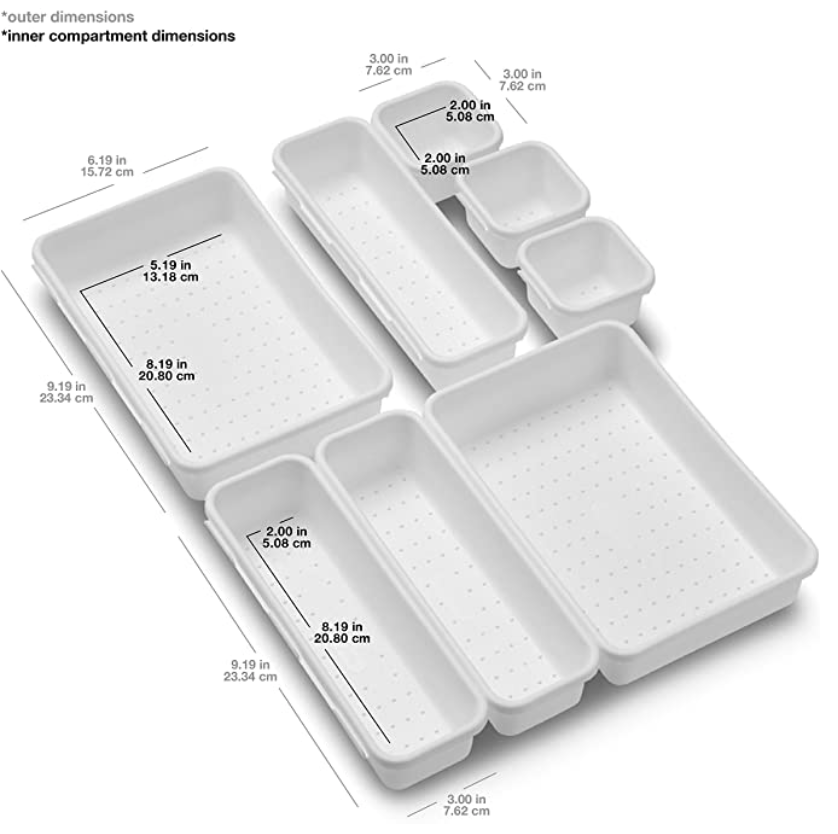 This frosted wall mount jewellery holder is a clever way to organise your earrings.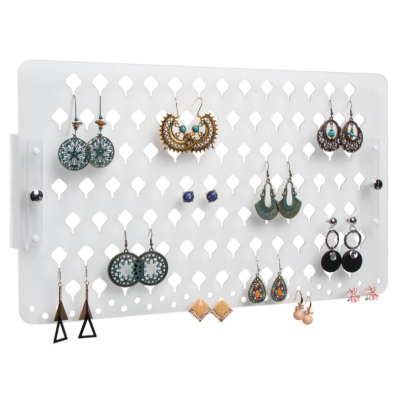 If you're looking for an effective yet inexpensive way to keep your earrings organised and dust-free, these hexagonal shaped ice cube trays with lids will do the trick.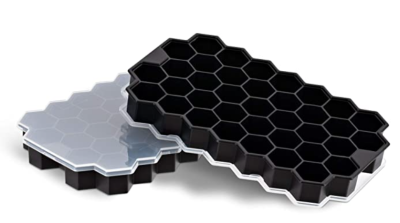 Do you like to have your jewellery on display? This wall-mounted organiser has nine hooks and plenty of space for your earrings.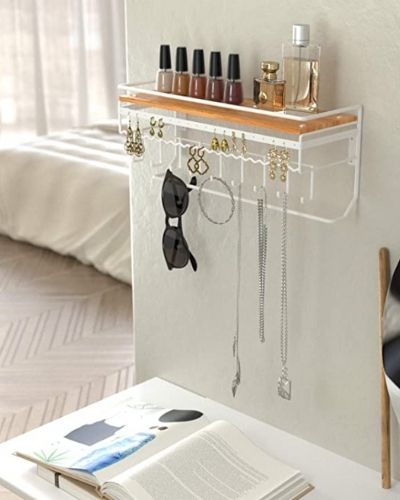 More ways to store your jewellery
This rotating jewellery box works well on a dresser – easy to access.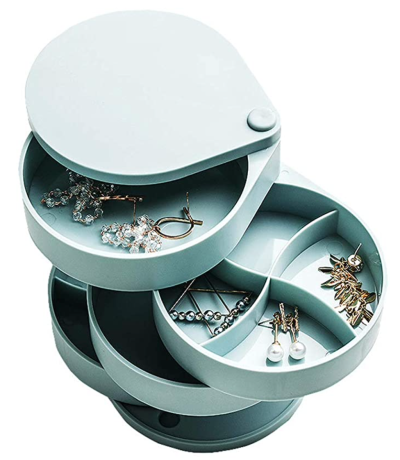 Are you looking for an out-of-sight yet easily accessible jewellery storage solution? You could attach this 24-hook necklace holder to the back of your wardrobe or bedroom door.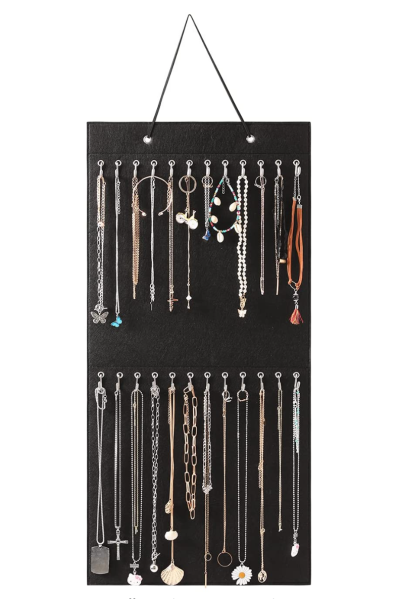 With 80 pockets and seven hook loops, this hanging jewellery organiser is one of my favourites. There's plenty of room for all your goodies, and you can see everything because the pockets are transparent.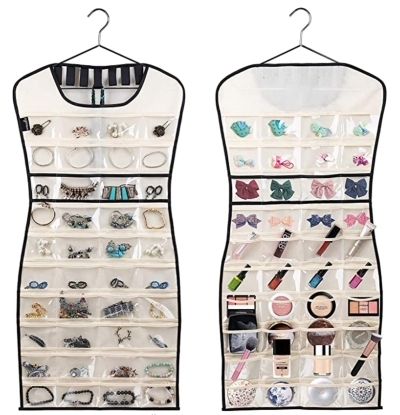 This cabinet is the Rolls Royce of jewellery storage! It has plenty of compartments and hanging hooks for all kinds of jewellery items.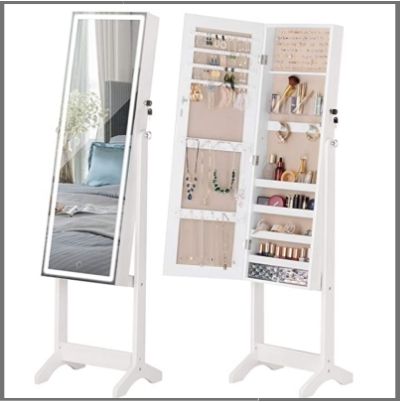 This hanging organiser is similar to the one mentioned before. It comes in light blue, dark grey, beige and black, and is made from canvas.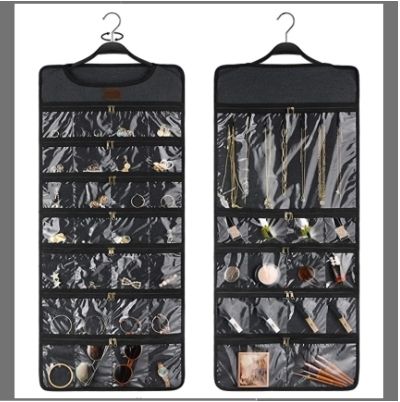 If floor space is limited at your place, but you have an abundance of jewellery to house, this wall hung cabinet might be the solution. It features shadow-free LED lights and anti-tarnish velvet lining.
Belt Storage Ideas
Depending on your body shape, proportions and style preferences, you may or may not wear belts. Here are a few ways to keep them tidy and in good condition for those of you who do.
Adhesive hooks are an easy, low-cost way to hang your belts, and you don't need a hammer and nails. If you change your mind and want to remove them, they're quickly and cleanly removed, with no damage to the wardrobe wall.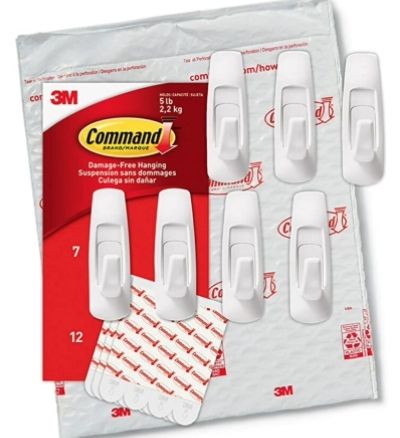 An over-the-door shoe organiser with plenty of transparent plastic pockets is a very effective way to store your belts. And, if you have fewer belts than pockets, you can use empty pockets for shoes.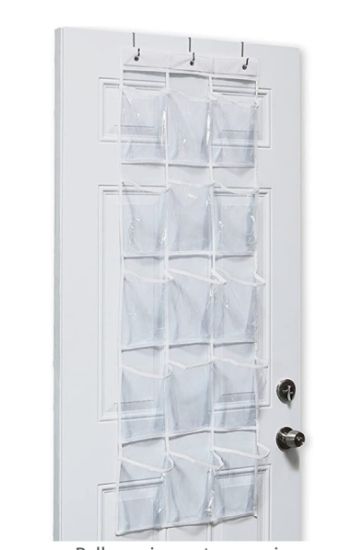 The cylindrical bracelet and belt organiser has many fabulous features, and being a multi-purpose storage container is just one of them. The images below tell the story.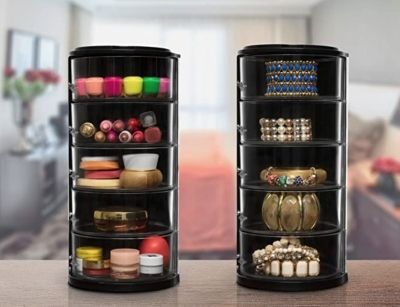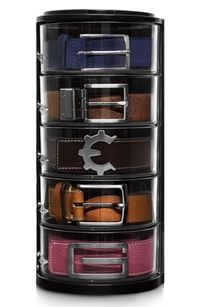 More Belt Storage Ideas
This belt rack has a small footprint yet packs a lot of punch! It boasts a staggering 27 hooks, so you can hang all your belts plus added extras like necklaces or ties.

Here is another excellent space-saving and time-saving organiser for your belts and jewellery (as well as plenty of other items). It has an ultra-slim profile and is made of metal with eco-friendly PVC coating, so it's durable, non-slip, and won't snag your delicate items.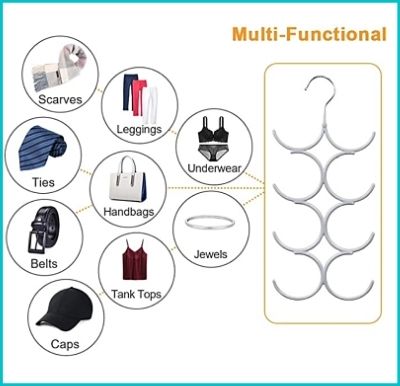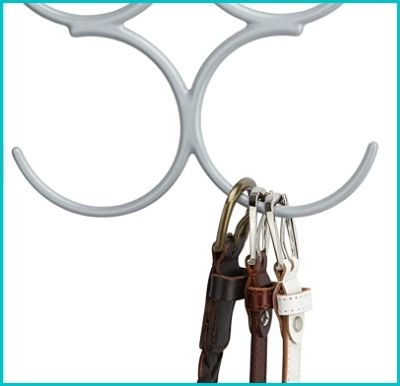 Over the door hooks for Belts, Clothes, Bags etc
If you hesitate to drill holes into walls or you're renting, over-the-door hooks are the perfect storage solution for items like belts.
This model has six hooks and top and bottom placement points. So, without doubling up, you could hang 12 belts. It also comes in white and brushed silver.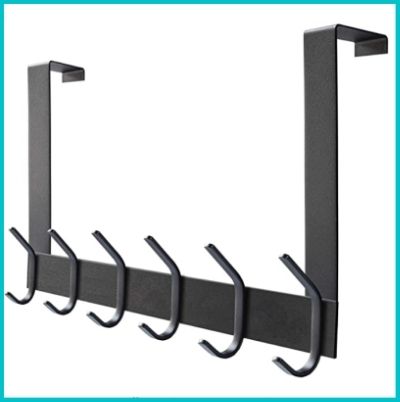 Another option is a pull-out belt holder. If you have space inside your wardrobe, this would be a great option.

Read about colour and style tips to make you feel and look great every day here.