Do you wear the same outfits day in, day out? (And are bored with them.)
Do you have a wardrobe full of clothes but know you only use about 20% of those clothes 80% of the time?
Do you struggle to see new and interesting ways to create multiple outfits from the clothes you already have?
Read on if you answered "Yes" to any of the above.
This blog encourages you to 'shop' in your own wardrobe – without having the need to buy more items. It explores ways to experiment with your existing clothes, shoes and accessories and tap into hundreds of new outfit combinations that are waiting to be discovered.
How To Shop Your Wardrobe
Experiment with one patterned top 
Mix items together that you've never tried before.
Start with a patterned top that you rarely wear.

Lay it on your bed. Look at the colours in it.

Now, choose all your pants and skirts that include any of the colours in that pattern.

Next, physically try on the top with each of your bottoms.

Create two piles of bottoms: 1) Items that don't work and 2) Items that do work.

Then start playing with your shoes, bags, and accessories.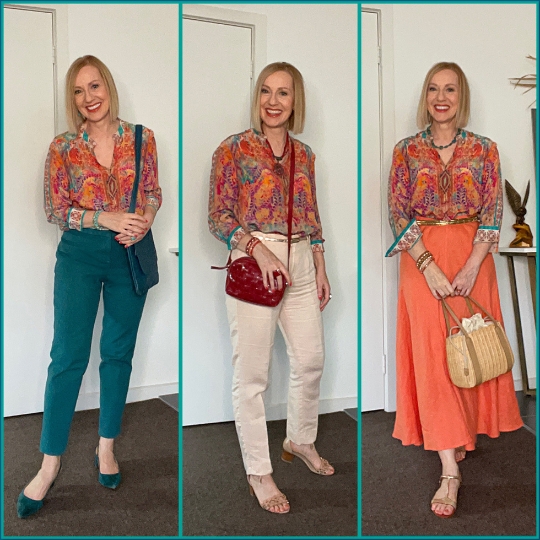 TIP: Photograph the winning outfits and pop them in an album on your phone for future reference. When you're running late in the morning, this photo album will be a great source of inspiration and will save you valuable time.
Creating everyday outfits with special occasion garments
Do you have some items you keep for special occasions only? It could be sequined, shiny or shimmery. Team that item with clothes you might consider to be more on the smart-casual side. Think about changing the style of shoes you wear with this item or the jacket you decide to wear with it. For example, you could wear your sequin jacket with dark denim jeans (instead of a more formal dress or skirt), a stacked heel rather than a stiletto, and a good-quality tee.
Use Colour to link garments together
Link the new outfit combination using colour as the 'glue'. Make sure the undertone and intensity of the colours harmonise to achieve a stylish and cohesive look. If you're unsure which colours suit you best, a Personal Colour Analysis will put you on the right track.
Not everything will work
Let's say the items you've just put together aren't working. Can you do or add something to tweak the look so it works? For example, you're wearing a maxi skirt with a boxy tee. The combination makes you look shapeless and wider. Could you add a belt to create shape? Could you tuck in the tee so there's less volume up top, making you look narrower? Or, could you find a more fitted tee?
Use Accessories to create different outfits
Play with your accessories to change the look of the new top and bottom combination you've put together. For example, wooden beads and flat sandals will create a casual look. Shiny beads and sandals with a higher heel will elevate the look.
Do you need help creating outfits with the clothes you already have?
If you'd like to get more value from your existing wardrobe and you are time-poor or lack the patience and creativity to put new outfits together, a wardrobe mix-and-match session is a fun 'dress-ups' session where I help you style your existing pieces to create new combinations and different looks. You'll get more wear from your clothes and save yourself time and stress in the morning because you'll have many photographed outfits you can refer to for inspiration. And, just as importantly, you'll look stylish and feel fabulous too 🙂