Interested in knowing 7 fashion mistakes that could be sabotaging your style?
Let's start with 'style rules'.
Do you like them to stick to them when you create your outfits, or do you favour flexibility as I do?
I think it's beneficial to know the theory and fundamentals of colour and style, but things get more exciting when you bend the rules, play outside the box and express your individuality. After all, fashion is meant to be fun!
There are, however, some general guidelines that can save your outfit from falling into the "What was she thinking?!" category. Knowing these fashion faux pas will help you dress with style and feel more confident about your outfit choices.
Fashion Mistakes Stealing Your Style
1.  Insisting you are only ever one size in clothing. "I'm always a size 12. I couldn't possibly go up to the 14."
Not all sizes are created equal! Make allowances for the huge sizing variations from one brand to another.
Last week I was on a personal shopping trip with Katie, who usually wears a size 14/L. She purchased an oversized top in size 12 and a skirt that skimmed her curves in size 16. Both garments fit her to perfection.
2.  Buying one item in every colour, especially anything that is worn near your face. I have seen this sooo many times during wardrobe audits!
The chances are that only one or, at a stretch, two colours will suit your ideal personal colour palette. The other colours will be unflattering for your skin tone. You may innately recognise this when you look in the mirror. Consequently, you only wear one colour 'to death' while the others will be a waste of money and take up valuable space in your wardrobe.
Fashion faux pas to avoid
3.  Wearing wide horizontal or vertical stripes across areas you want to hide, e.g. your tummy, hips, bottom, bust or shoulders. Stripes, especially large ones, are focal points that add extra volume and width.
4.  Wanting to look taller and slimmer, but wearing very dark pants with a very light top (or vice versa).
This combination is called 'high-value contrast'. It visually cuts you in half. If you are tall, that might not be such a big deal. But, if you are average height or less, it will make you appear shorter and wider. Notice that the line at the model's waist area is less obvious in the image on the right-hand side.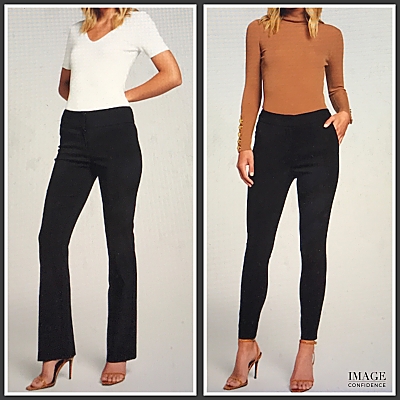 5.  Fashion mistake no. 5 is wearing white, bright, tight, coloured, dark or patterned underwear beneath your white clothes. No one needs to see that! ? Nude, flesh colours are the way to go.
Tip: White pants are especially unforgiving, so when you wear them, make sure your underwear fits perfectly.
These Fashion Blunders could be your Style Undoing.
6.  Buying into extreme fashion trends. They lack staying power and date quickly. Examples include micro bags, padded shoes, and mega-ripped jeans. These high turnover pieces deplete your bank balance and contribute to unnecessary waste and pollution. Plus, if you wear them for too long, others will perceive you as outdated or stuck in the past.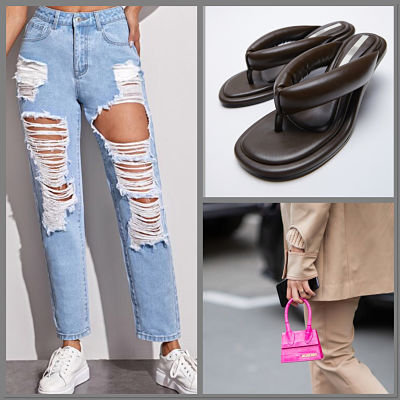 7.  The last of the fashion mistakes warranting a mention is ill-fitting clothes. Wearing garments that are either too tight or too large draws attention for the wrong reasons. I think the former is the worst offender – think muffin tops and breasts spilling out of a super tight top. This scenario reminds me of something I read ages ago, "Just 'cause it zips doesn't mean it fits."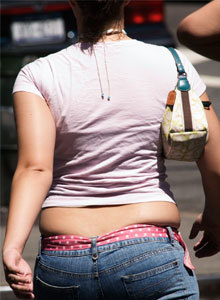 The other side of the coin is trying to hide your perceived problem areas (like a tummy) with large over-sized clothes. Excess fabric only draws our attention to that area.
Clothes that skim your body shape are most flattering.
Image credits: Mollini, Portmans