They're so tempting.
Black Friday sales. Clothes, shoes and accessories are reduced to excellent prices.
You think, 'That's a great deal! Quick, I better buy, buy, buy!'
WAIT ✋ – I'm putting on my party-pooper hat here.
Does it pain you to think how much money you've wasted on unworn sale items over the years? 
It's something to ponder.
Filling your wardrobe with random items leads to "I have a wardrobe full of clothes but nothing to wear."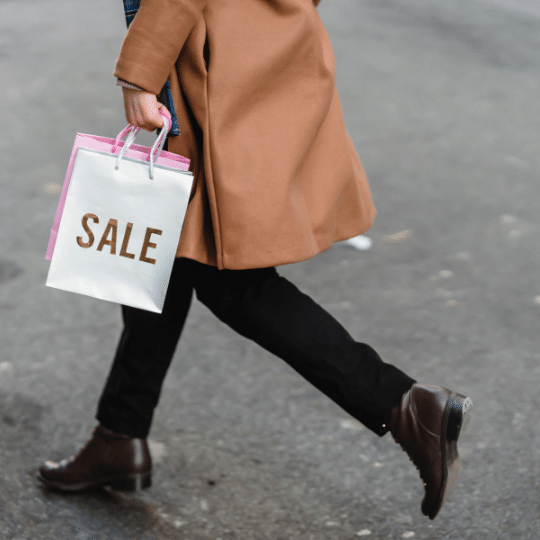 Here are 11 quick questions to ask yourself before clicking the 'Buy' button or tapping your card in-store:
Would I buy this item if it wasn't on sale?
Does this item suit my style preferences?

 

Which three things in my existing wardrobe will mix and match with this new purchase?
Does it fit my current body shape and proportions?
What are the cleaning/laundering instructions? An everyday blouse with a 'Dry Clean only' label translates into an expensive garment.
Is it comfortable? (especially shoes.)
Is it good quality, so it lasts?
What is the fabric component?

 

How often will I wear it? (this question is related to cost per wear per item.)
Is it very similar to something I already own?
Shopping with intention ensures you wear what you buy because it ticks all your boxes. Answering the questions will keep you in check. Your bank balance, psyche and wardrobe will thank you for it. ❤️??