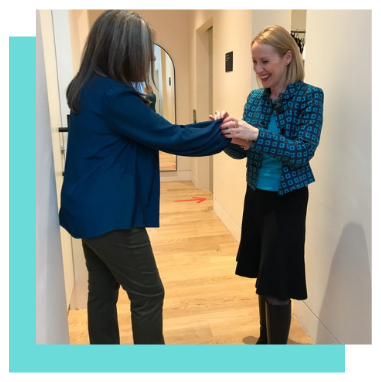 Complete Image Confidence Package (2 Days)
END-TO-END COLOUR, STYLE, SHOPPING & WARDROBE PACKAGE
This 2 day package can be done in person or online
Are you looking for an end-to-end experience that puts together all the elements needed to give you absolute image confidence – in just two days? Our 'Reset your Style' package is your 'one stop shop'; bringing together our colour, style, wardrobe refresh, personal shopping and wardrobe integration services and giving you absolutely everything you need to feel a sense of joy that 'you have it right' and look impeccable day in and day out!
How does it work?
Over the course of two days, together with your style coach, Ann Vodicka, you'll move through the 'five steps to image confidence' in this order…you can then watch the compliments come rolling in!
Day 1 - at your home or online
(10AM - 6PM, WITH HALF HOUR BREAK FOR LUNCH)
Colour Analysis - 2 hours
We start with one of the most effective ways to be sure you look and feel your best every day; determining your perfect colour palette that compliments your skin tone, hair and eyes, together with your signature colours (that are exceptionally flattering on you). As part of this colour consult service, you'll receive a swatch of your best colours to keep, so you'll have them on hand whenever you next go shopping for clothes or accessories, plus a handy booklet detailing everything we cover during the session. At the same time we will also identify your best makeup colours and one knockout lipstick in your perfect colour will be yours to keep, too!

Style Session - 3 hours
Then, we move into your personal style preferences, another really important part of the process to help us understand what style of clothing suits your lifestyle, tastes and preferences and genuinely reflects the 'essence of you'. Not only do we cover your body shape, but during this empowering process we'll help you identify and gain clarity around the specific style details that are unique and true to you. For example, is your style classic, feminine, dramatic, or relaxed? Your style coach, Ann, will ensure you'll have the knowledge to dress in ways that make you feel comfortable, confident and authentic.

Wardrobe Refresh - 2 hours
With your perfect colours and unique style in mind, it's wardrobe makeover time! At this point we tackle your wardrobe and accessories – and work through the items together, identifying those you no longer need and keeping the items that reflect your best colours and style. We'll create new outfit combinations from 'the keepers' and organise as we go. No more wardrobe confusion, doubt and frustration! Importantly, we will also write a shopping list for items needed to offer ultimate everyday 'mix and match' versatility.
Day 2 - at a designated shopping centre, then back at your home
(12pm - 6pm with half an hour break)
Personal Shopping - 2 hours
(with a 2 hour pre-shop)
It's time to hit the shops! The benefit of having a personal shopper is that you'll benefit from a two-hour pre-shop done before you arrive (with your list in hand and budget in mind) to really maximise our time together, before we spend two hours shopping. Bring your energy for what my clients describe as a fun, rewarding, efficient and stress-free shopping experience! Better still, you'll walk away with items you know you need and have no doubt are just right for you.

Wardrobe Integration - 2 hours
With your new purchases in tow, we head back to your place so you can learn how to integrate them into your wardrobe, and mix and match them with things you already own. This is an important, final step to ensure you know how to make all of your pieces (existing and new) work together to make multiple outfits and you can see just how versatile your wardrobe now really is! We can also take photos for future reference so you can use them as a source of inspiration.
To finish, we'll ensure your transformed wardrobe is organised into colours and styles – making it quick and easy to find and assemble fabulous outfits every day. Say goodbye to time wasted looking at a wardrobe full of clothes with nothing to wear or trying on multiple outfits before heading out the door – and hello to fun, joy and inspiration when you open those wardrobe doors.
In just two days, you'll have a whole new approach to getting dressed, shopping and knowing what colours and styles make you shine. You'll also have a 'style toolkit' with you for life as a result of the amazing wealth of knowledge you have gained through the process, with the principles, techniques and understanding of what works ensuring you won't make future mistakes!
On a deeper level, our clients tell us their whole way of interacting with the world changes as a result of feeling confident in their style, which is genuinely reflective of their inner authentic selves.
This investment in yourself will repay itself many times over. Are you ready to say goodbye to stress-free mornings and hello image confidence?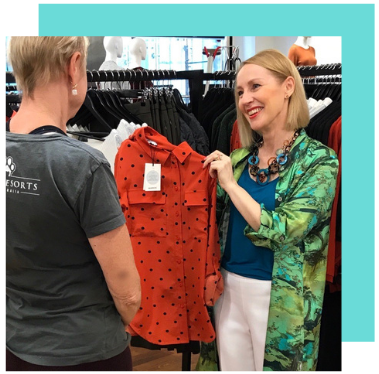 Testimonial
find out what others think of the Complete Image Confidence Package
When I contacted Ann, I felt fat, frumpy, 40 and I was flailing…nothing in my wardrobe "worked" and I had resorted to shapeless, black clothing because I simply didn't know what else to do. With an extra 15kg of the dreaded menopause hanging off my limbs I was lost and lonely inside and…well…outside too. I was scared that nothing and no one could help me feel like myself again, let alone beautiful and sexy.
Enter the angel in fabulous attire Ann! Ann is the quintessential professional, incredibly skilled at what she does and manages to make it all look and feel effortless. I felt like I was spoiled during every moment of working with her. The private dressing suite in Myer during my shopping trip was an absolute highlight. To walk into racks and racks of clothes chosen especially for me to try on was daunting and exciting at the same time. I had never seen myself look so beautiful.
I learned so much from Ann in the first of two days we spent together – going through my wardrobe and letting go of what no longer suited me and realizing the potential in pieces I owned but didn't know how to make the most of. Ann was very respectful of my choice to not wear make-up and we settled comfortably on stunning lipsticks that were absolute game changers for me.
I learned even more on the second day as I tried on clothes and shoes and accessories with Ann pointing out what worked and didn't and why. Ann helped me dress my body in a way that had me feeling good again on the inside and out. I love my "sophisticated" palette and I take it with me everywhere I go just in case I see something I'd like to buy.
The proof was definitely in the pudding when I wore my new clothes out to dinner with friends for the first time and received genuine and thoughtful compliments that I hadn't had in years, not to mention one of the dinner guests whom I didn't know making a pass at me (true story).
The thing I loved most was Ann's compassion and empathy for me and my feelings about my body as it is right now. I always felt supported, respected and nurtured in our work together. Ann is incredibly resourceful and creative and I cannot recommend her highly enough. I absolutely recommend spending the two day "Complete Image Confidence Package" with Ann – it was worth every cent.
Thank you Ann for giving me my sparkle back and helping me to feel truly beautiful again. I couldn't have done it without you.
With much gratitude
Tiffany B
I contacted Ann because I needed help to revamp myself.
I'm in my early 50's and wasn't happy with the body changes that come with being this age! I have also been wearing a uniform to work for the past five years, so I don't think a lot about clothes. I felt that I had lost my sense of self and didn't really know where to start to. I have never really enjoyed shopping and this task seemed way too daunting. A friend recommended Ann, I looked at her website and knew 'The Complete Image Confidence Package' was exactly what I needed.
I booked the colour analysis, personal style session, wardrobe edit, personal shopping trip and wardrobe integration. I am so glad that I did, it has really changed how I feel about myself and I love my new look. Ann was amazing, she made me feel totally comfortable throughout the process and the end result was well worth it. I have a new hair colour, new make-up, an entire new wardrobe that I can mix and match to suit the occasion, including accessories.
I'm so glad that I did this and would highly recommend Ann. For me, it's important that I am comfortable with how I look and feel, I needed a little help to get it right. Ann is the person that took the pain out of the whole process and I feel great!
Louise. K.
Looking for help putting this new knowledge into practice?
Explore...